School Improvement Plan Educational Resources
Founded by educators for educators, we believe that successfully implementing school improvement plans requires a systematic goal-based approach that fosters collaboration and remains focused on student outcomes.
Webcasts
Leading School Improvement Plans for Lasting Success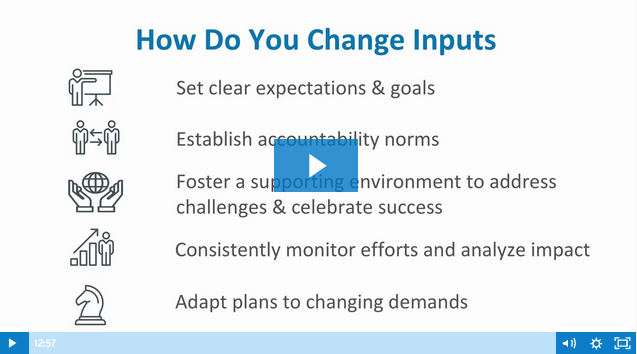 In this 12 minute educational webcast Gavin Doughty, Founder and the Inventor of RespondAbility, will discuss the challenges and barriers a leader faces implementing a strategic plan.  He will then outline how to create a culture that provides the visibility and processes required for lasting success.
Taking Your School Improvement Effort from Plan to Action to Results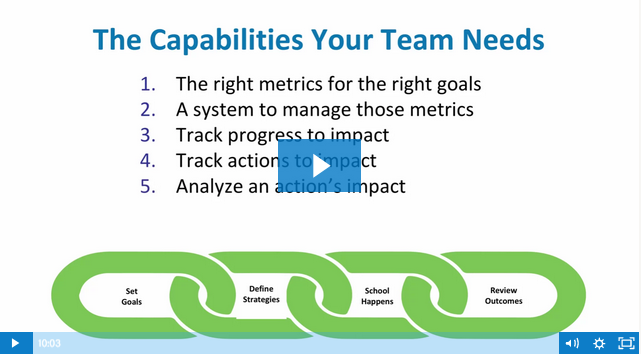 Learn where most implementations fall short.  And how a tool can create a collaborative process that allows you to track actions to impact, celebrate successes and pinpoint where to focus resources to ensure you get the outcomes you need.
How A Progress Management Tool Empowers Your Stakeholders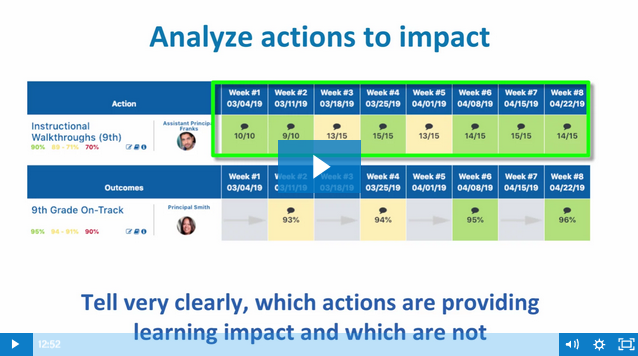 15-year veteran educator, Gavin Doughty, outlines the top reasons that school improvement plans fail. He then presents a detailed use case that explains how a progress management tool empowers teachers, principals, and administrators to effectively collaborate to change student outcomes. 
How to Use Metrics to Track Progress and Motivate Your Team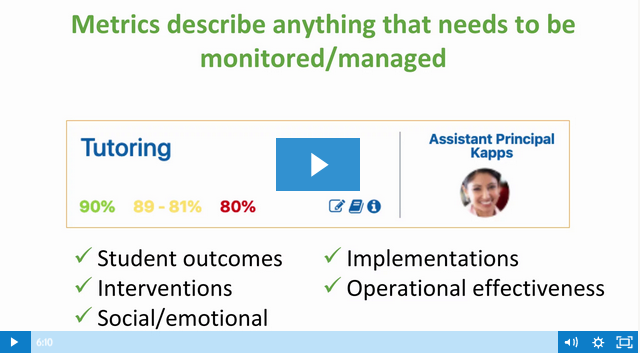 In this short 6 minute video, we will give you a sneak peek that explains how metrics (that you and your team control) provide you with the flexibility you need to collaborate on student outcomes.
High School Principal, Chad Thomas, describes his experience leveraging RespondAbility, to turn his strategic plan into action and action into results.  He shares how he used RespondAbility for:
Implementation

Team building

Progress management,

And course correction
You can watch even more stories following the button directly below.
Educational Interviews
RespondAbility's leadership team shares their front line experience helping educators make the leap from planning to implementation with guidance from the RespondAbility progress management system.
Focusing on Your School Improvement Plan, a Principal's Perspective
Former Principal and current VP of Sales, Don Fraynd, discusses how a school in turnaround benefits from using best practice work flows and software to ensure student outcomes are reached.
How Software Helps Pave the Way for Student Success
RespondAbility's founder explains how the right systems help your entire team implement and execute your plan with high fidelity.  He also discusses how measuring activity correlates directly to student outcomes.
How Does Progress Management Software Empower Your Team
Former Principal and Education Leadership Development expert, Ed Morris Junior, shares lessons learned from the front lines helping educators produce substantial changes to student outcomes.
How Districts Can Manage Multiple School Improvement Plans
Don Fraynd, former Principal and District School Improvement Director, discusses how a software platform makes it easier for Districts to support multiple school improvement plans
Why Do School Improvement Plans Fail
Our VP of Educator Engagement, Ed Morris Junior, discusses the top barriers to successfully implementing a school improvement plan and how progress management software helps you avoid these barriers.
Why Measure Action to Impact
RespondAbility's founder discusses why correlating specific educator actions to student impact is one of the most critical steps in successfully turning a strategic plan into real results for student outcomes. 
Educational Articles
Learn more about how to successfully implement your School Improvement Plan from some of the leading educators and front line experts in the United States.
In the absence of 100% in-person schooling, you can still drive effective communications with virtual tools - but measuring timely results and demanding the accountability that goes with them, is something easily lost in the virtual world. "Did Ms.Smith do any...