This case study examines an elementary school principal and his journey to transform his school with the help of the strategy execution platform – RespondAbility.
Lakeview Elementary School
Daniel is an amazing change agent who has a track record of successes in "stabilizing" or "transforming" low-performing schools. He started as a teacher and is passionate about doing what is best for his students. After completing a nationally recognized Principal Preparation Program Daniel is now the principal at Lakeview Elementary. Lakeview serves 538 students in grades K-6 with a student enrollment of 65% economically disadvantaged students. The state average is 48%.
Daniel worked with his School Improvement Team and created a plan that reflects their shared vision and includes clear goals that detail where they need to be and what they need to do to get there.
Because only 13% of students scored at or above proficient for math and 17% for above proficient in reading, Lakeview's School Improvement Plan focuses on increasing the number of students who are proficient in Math and ELA by 10% per year. The strategies to meet these goals are:
1. Adopt a new ELA curriculum
2. Integrate new adaptive digital content to support math instruction
Creating a School Improvement Plan is a significant investment of time, effort, and expertise from school leaders, community members, and other stakeholders.
But what they quickly realized was that by itself, a School Improvement Plan is just a starting point. What challenged Daniel and his team most was implementing the plan with fidelity, and that meant a change in adult behavior. Without systems in place to reinforce those changes, educators continue to teach and work as they always have.
Daniel needed his School Improvement Plan to gain traction. For this to happen, Daniel needed to distribute actionable tasks and responsibilities to his leadership team and teachers. He also needed to understand which interventions and strategies were working and where the team needed to course correct.
"My School Leadership Team and I know that the link between planning, implementation, and student outcomes is broken but we are not quite sure how to fix this. We have a strong school improvement plan but with everything going on, how do we implement it with fidelity and track our progress?"
Why Lakeview Elementary Chose RespondAbility
RespondAbility stood out to Daniel because it would help his leadership team gain traction with their school improvement plan by:
Establishing clear accountability and distributing leadership
Transforming how Lakeview defines its strategies
Empowering Lakeview's leadership team to monitor progress and course-correct in real-time
"Our leadership team and School Improvement Team invests significant time in developing the School Improvement Plan but needs support to gain traction with implementing the plan. RespondAbility works directly with us to implement accountability and progress monitoring systems, ensuring that my leadership team is executing the strategic School Improvement Plan."

How Lakeview Elementary Uses RespondAbility
Lakeview uses RespondAbility to manage its school improvement plan implementation using RespondAbility Dashboards: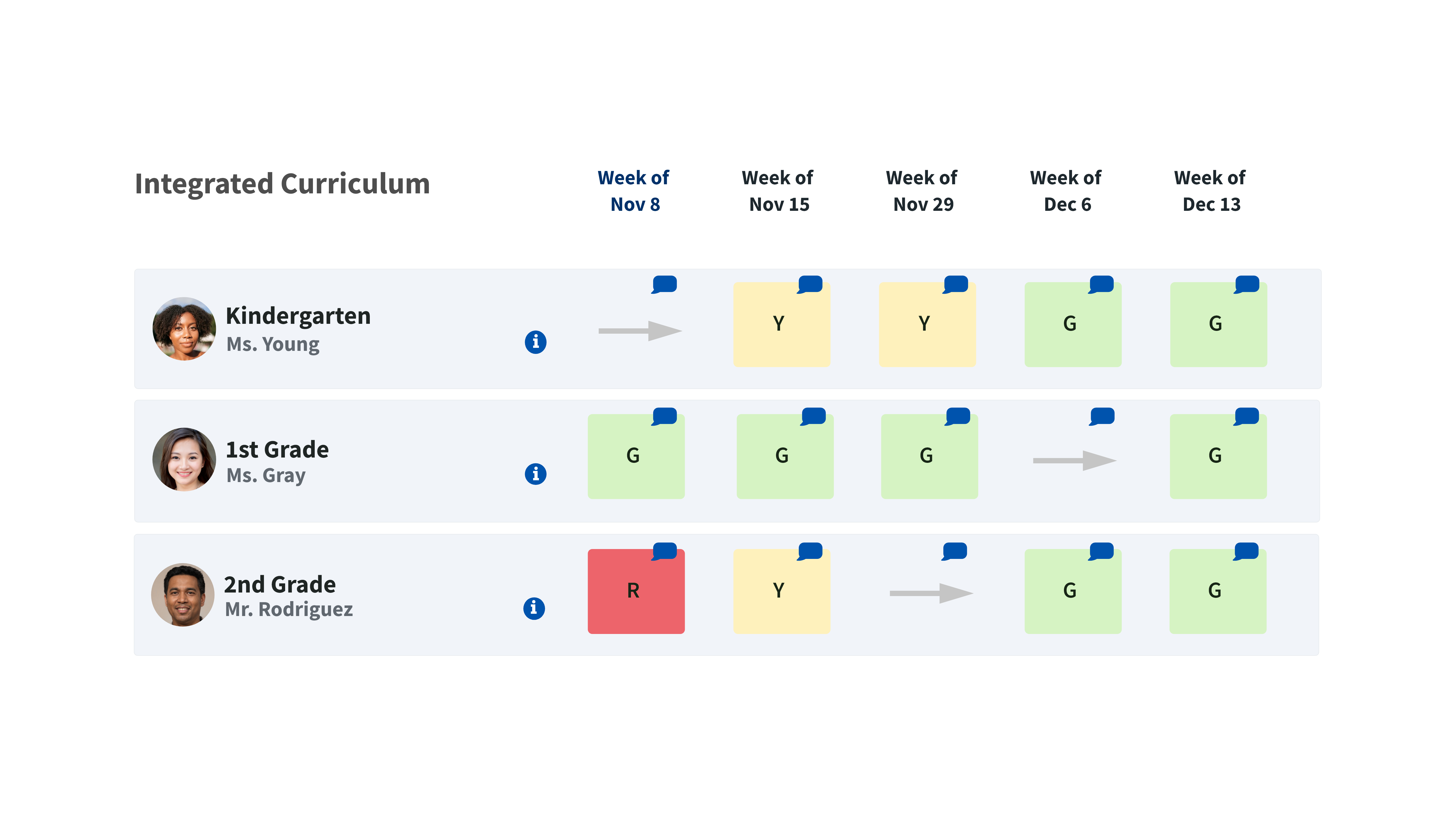 On Mondays:
1. The grade-level leads meet with their teams.
2. The teams use their previous weeks' updates as input to the meeting and then add their updates for the current week.
3. At 5:00 PM, an automated report goes to all of the grade-level leads and leadership team.
On Tuesdays:
4. Daniel meets with his Leadership Team in the morning to review the grade-level teams' progress and challenges.
5. Leadership and grade-level leads meet in the afternoon using the information in RespondAbility to problem-solve and assign specific next steps.
The color-coded status updates allow Daniel and the team to know what strategies and interventions are on track at a glance:
Green: This initiative is on track.
Yellow: I have a plan to get this initiative back on track.
Red: I need specific support from specific individuals to get this initiative back on track.
The Results
Using RespondAbility, Daniel and his team now have real insight into their progress, allowing them to adjust their strategies throughout the year.
After Year 1, they see that they are on track to meet their three-year goal:
26% of students are now above proficient in reading, up from 17% the previous year
24% of students are above proficient in math, up from 13% the previous year

RespondAbility has been instrumental in empowering Daniel and Lakeview to be more systematic in using evidence to improve practice and reach their School Improvement Plan goals. As they move into their second and third years of implementing their school improvement plan they have the tools and structures to continue to execute, progress monitor, and course correct to continue meeting their goals.
Learn More About RespondAbility
Visit our website to learn more about our process and how you can connect your school plans to student outcomes.
Check out some of our success stories; see how RespondAbility has helped school and district leaders drive their school improvement efforts.
Ready to get started? Schedule a 30-minute demo here.