Schools that "Live in the Gray" are essentially caught in the gray portion of the cycle below – they are continuously debating the nature of their issues and the myriad of possible solutions but rarely are able to change the trajectory of success.
Schools that "Live To Improve" dive into the Virtuous Cycle and establish a culture of hypothesis, action, measurement, review and refinement. This approach "unsticks" a school and assures continuous momentum, with positive results reinforced and made habit, while negative results trigger quick discernment and modification.
The simple information flow that accompanies this model ensures decision making and actionability over indecision and excuse making – and clear direction over finger-pointing or blame. To learn more about RespondAbility click here. Or to connect with us directly, click here.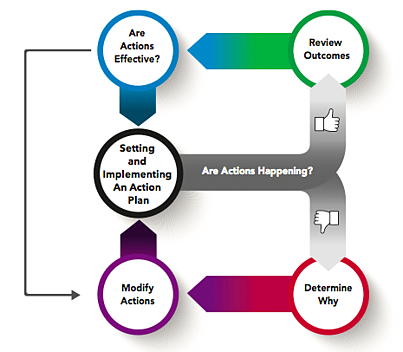 To see how RespondAbility can help drive continual improvement in your school.